World of Outlaws Craftsman Sprint Car Series Will Make Inaugural Visit to FALS in 2018

By Anthony Corini

CONCORD, NC - November 14, 2017 - After a successful half-decade of Fairbury American Legion Speedway (FALS) hosting the World of Outlaws Craftsman® Late Model Series, The Greatest Show on Dirt will make its' first ever visit to the ¼ mile semi-banked dirt oval on Wednesday May 30, 2018.

"We have wanted to bring the World of Outlaws Craftsman Sprint Cars to FALS for a long-time now. FALS has had a ton of success with the Late Models and what better way to add excitement then by bringing in The Greatest Show on Dirt," FALS Race Director Matt Curl said.

Fairbury American Legion Speedway ran two 410-Winged Sprint Car races in 2017, both co-hosted by the Interstate Racing Association (IRA) and Midwest Open Wheel Association (MOWA). The most recent coming on October 7, which saw Carson Macedo pass Joey Saldana on the last lap for the victory in thrilling fashion. "The racing was phenomenal this year with the winged cars and we are looking forward to providing a similar racing surface for the highest caliber drivers in the country," Curl added.

-end-

The Greatest Show on Dirt Set to Return to Terre Haute Action Track in 2018

Outlaws second visit to The Action Track since 2006

CONCORD, NC - November 9, 2017 - For just the second time in 12 years, the World of Outlaws Craftsman Sprint Car Series will return to the Terre Haute Action Track in 2018. The date is scheduled for Saturday, October 13, 2018. The UMP Modifieds will be the support class for the evening.

The slightly banked ½ mile track located in Indiana most recently hosted The Greatest Show on Dirt in 2014, an event that saw 33 cars sign in for competition with nine-time Series Champion, Donny Schatz taking the victory.

"We have had a couple of great years since the World of Outlaws Craftsman Sprint Car Series has visited. It has been a multiple groove track surface with great crowds and we are excited to have the World of Outlaws back in at The Action Track," said Adam Mackey, the Terre Haute Action Track General Manager.

Prior to 2014, the 'Outlaws' most recent visit to The Action Track was 2006. "The Outlaws are known worldwide, not just nationwide. We anticipate a lot of fans from multiple hours away coming to see the wicked fast Winged Sprint Cars at a track they haven't seen them at," Mackey added.

The aforementioned Schatz is the only active World of Outlaws Craftsman Sprint Car Series regular that owns a victory at the Terre Haute Action Track, which holds roughly seven special events annually. Will Schatz add to his legacy in 2018 or will there be a new face in the Terre Haute Action Track Victory Lane?

Stay tuned to woosprint.com and www.TerreHauteActionTrack.net for ticket release information for next October's event.

-end-
Gravel Thrills Sellout World Finals Crowd with Last Lap Pass of Schatz

Schatz wins the war; Crowned 9-time Series Champion

Charlotte, NC - November 4, 2017 - David Gravel couldn't clear Donny Schatz with seven to go, but would not be denied, scoring the victory in a thriller with a last-lap pass of Schatz. It was Gravel and CJB Motorsports 18th World of Outlaws Craftsman Sprint Car Series win of the season, doubling their total from last season. Schatz and Brian Brown completed the podium on the final night of the Textron Off Road World of Outlaws World Finals at The Dirt Track at Charlotte Motor Speedway.

Feature (30 Laps): 1. David Gravel; 2. Donny Schatz; 3. Brian Brown; 4. Kerry Madsen; 5. Bill Balog; 6. Logan Schuchart; 7. Daryn Pittman; 8. Cole Duncan; 9. Brent Marks; 10. Ryan Smith; 11. Brad Sweet; 12. Trey Starks; 13. Brock Zearfoss; 14. Shane Stewart; 15. Sam Hafertepe; 16. Greg Wilson; 17. Jason Sides; 18. Paige Polyak; 19. Paul McMahan; 20. Ian Madsen; 21. Parker Price-Miller; 22. Kraig Kinser; 23. Sheldon Haudenschild; 24. Joey Saldana; 25. Jason Johnson; 26. Greg Hodnett; 27. Dave Blaney; 28. Jac Haudenschild.

Lap Leaders: Ryan Smith 1, Brian Brown 2-4, Donny Schatz 5-29, David Gravel 30.

Championship Standings
1. Donny Schatz 11410
2. Brad Sweet 11200
3. David Gravel 11082
4. Daryn Pittman 10718
5. Shane Stewart 10702
6. Jason Johnson 10496
7. Sheldon Haudenschild 10118
8. Kraig Kinser 9946
9. Logan Schuchart 9854
10. Brent Marks 9744

-end-

Schatz Reaches 20-Win Plateau for Fifth Straight Year with Win at Textron Off Road World Finals

CHARLOTTE, NC - November 3, 2017 - No matter who is in the pits, it's tough to bet against Donny Schatz. That proved true on Night Two of the Textron Off Road World of Outlaws World Finals at The Dirt Track at Charlotte Motor Speedway, as Schatz bested a stout field of 53 cars from across the world to win his 20th World of Outlaws Craftsman Sprint Car Series Feature of 2017. Ian Madsen and 10th-starting Dave Blaney completed the podium.

Feature (30 Laps): 1. Donny Schatz; 2. Ian Madsen; 3. Dave Blaney; 4. Kerry Madsen; 5. Joey Saldana; 6. Bill Balog; 7. Logan Schuchart; 8. Jason Johnson; 9. Brad Sweet; 10. Tim Shaffer; 11. Paul McMahan; 12. Brian Brown; 13. Cole Duncan; 14. Shane Stewart; 15. Jason Sides; 16. Sheldon Haudenschild; 17. David Gravel; 18. Sammy Swindell; 19. Brock Zearfoss; 20. Jac Haudenschild; 21. Tony Stewart; 22. Daryn Pittman; 23. Trey Starks; 24. Kraig Kinser; 25. Terry McCarl; 26. Brent Marks; 27. Ryan Smith; 28. Parker Price-Miller; 29. Sam Hafertepe; 30. Greg Wilson.

Lap Leaders: Bill Balog 1-9, Donny Schatz 10-30.

Unofficial Standings
1. Donny Schatz 11264
2. Brad Sweet 11072
3. David Gravel 10932
4. Daryn Pittman 10582
5. Shane Stewart 10580
6. Jason Johnson 10394
7. Sheldon Haudenschild 10014
8. Kraig Kinser 9840
9. Logan Schuchart 9716
10. Jason Sides 9626

-end-

Outlaw Boot Hill Showdown at Dodge City Raceway Park Cancelled

CONCORD, NC - Oct. 24,2017 - The arrival of Winter and the frigid northern cold blast has prompted an early cancellation of this weekend's World of Outlaws Craftsman® Sprint Car Series Outlaw Boot Hill Showdown at Dodge City Raceway Park.

"The Outlaw Boot Hill Showdown is traditionally an outstanding event that everyone looks forward to attending, however, in the best interest of the fans and racers that we have decided to cancel this weekend's event at Dodge City Raceway Park," said Series Director Carlton Reimers.

Track and Series officials are working together to determine a 2018 date for the Outlaw Boot Hill Showdown at Dodge City Raceway Park. Stay tuned to the World of Outlaws website and social media for future announcements of the Outlaw Boot Hill Showdown 2018 date.

All advanced tickets purchases will be honored at the 2018 date when announced. Ticket holders may request a refund by mailing their ticket stub back to World Racing Group office 7575 W Winds Blvd NW D, Concord, NC 28027 for a refund; refunds will not be issued at the track.

-end-
Kerry Madsen Wins Outstanding Salina Highbanks Feature

SALINA, OK. - October 21, 2017 - Kerry Madsen had over an eight second lead last night at Lakeside Speedway before spinning in heavy lapped traffic. Tonight, the 'Mad Man' made sure he parked his GoMuddy.com No.2M where it belonged - on the frontstretch. In thrilling fashion, Madsen went from third to the lead in half a lap and went on to win his fifth World of Outlaws Craftsman Sprint Car Series Feature of the season. Donny Schatz and Brad Sweet completed the podium at the Salina Highbanks Speedway.

Feature (30 Laps): 1. Kerry Madsen; 2. Donny Schatz; 3. Brad Sweet; 4. Shane Stewart; 5. Jason Johnson; 6. Ian Madsen; 7. Logan Schuchart; 8. Brent Marks; 9. Sheldon Haudenschild; 10. Daryn Pittman; 11. Brady Bacon; 12. Jason Sides; 13. Greg Wilson; 14. Kraig Kinser; 15. Parker Price-Miller; 16. Clyde Knipp; 17. Ryan Bickett; 18. R.J. Johnson; 19. Jac Haudenschild; 20. Curtis Evans; 21. Jacob Allen; 22. David Gravel; 23. Sammy Swindell.

Lap Leaders: Brad Sweet 1-22, Kerry Madsen 23-30

Unofficial Standings
1. Donny Schatz 11114
2. Brad Sweet 10940
3. David Gravel 10816
4. Daryn Pittman 10476
5. Shane Stewart 10458
6. Jason Johnson 10260
7. Sheldon Haudenschild 9896
8. Kraig Kinser 9738
9. Logan Schuchart 9580
10. Brent Marks 9510

-end-
Brian Brown Thrills Hometown Crowd with Outlaws Win at Lakeside

KANSAS CITY, KS - October 20, 2017 - Brian Brown led the first seven laps before Kerry Madsen took command on the eighth circuit. Brown inherited the lead with 10 to go after Madsen got spun around in lapped traffic. 'BlackJack' went on to score a popular hometown win in the FVP Platinum Battery Shootout at the Lakeside Speedway. Sheldon Haudenschild and 12th starting Donny Schatz completed the podium.

Feature: (30 Laps) 1. Brian Brown; 2. Sheldon Haudenschild; 3. Donny Schatz; 4. Jason Johnson; 5. Kerry Madsen; 6. Shane Stewart; 7. David Gravel; 8. Brad Sweet; 9. Daryn Pittman; 10. Logan Schuchart; 11. Ian Madsen; 12. Brent Marks; 13. Brady Bacon; 14. Jac Haudenschild; 15. Jason Sides; 16. Kraig Kinser; 17. Hunter Schuerenberg; 18. Dusty Zomer; 19. Parker Price-Miller; 20. Greg Wilson; 21. Brooke Tatnell; 22. Sammy Swindell; 23. Tony Stewart; 24. Lynton Jeffrey; 25. Jacob Allen; 26. Clyde Knipp.

Lap Leaders: Brian Brown 1-7, 21-30; Kerry Madsen 8-20.

Unofficial Standings
1. Donny Schatz 10968
2. Brad Sweet 10796
3. David Gravel 10710
4. Daryn Pittman 10346
5. Shane Stewart 10316
6. Jason Johnson 10120
7. Sheldon Haudenschild 9764
8. Kraig Kinser 9616
9. Logan Schuchart 9444
10. Jason Sides 9380

-end-
David Gravel, CJB Score 17th Win of Season at Fulton

FULTON, NY - October 7, 2017 - David Gravel inherited the lead on lap nine after race leader Daryn Pittman got into the back of a slower car and spun to a stop. Gravel survived a multitude of restarts and held off Jason Johnson and Donny Schatz to score his career-best 17th win of the season for CJB Motorsports at the Fulton Speedway Saturday night in conjunction with NAPA Auto Parts Super DIRT Week.

NAPA Auto Parts Super DIRT Week concludes Sunday afternoon at the Oswego with Championship events for the Big Block Modifieds, Sportsman Modifieds and Pro Stocks. Sunday's Billy Whittaker Cars and Trux 200 for the Big Blocks will pay a hefty $50,000 to the winner. For all things, Super DIRT Week, vist SuperDIRTWeekOnline.com!

Feature: (26 Laps due to green-white-checkered finish) 1. David Gravel; 2. Jason Johnson; 3. Donny Schatz; 4. Greg Wilson; 5. Jac Haudenschild; 6. Brent Marks; 7. Kraig Kinser; 8. Brad Sweet; 9. Mike Mahaney; 10. Sheldon Haudenschild; 11. Shane Stewart; 12. Jason Sides; 13. Jacob Allen; 14. Parker Price-Miller; 15. Daryn Pittman; 16. Paul Colagiovanni; 17. Scott Kreutter; 18. Jason Barney; 19. Logan Schuchart; 20. Larry Wight; 21. Ed Aikin; 22. Paige Polyak; 23. Clyde Knipp; 24. Joe Kata.

Lap Leaders: Daryn Pittman 1-8, David Gravel 9-26.

Unofficial Standings
1. Donny Schatz 10532
2. Brad Sweet 10374
3. David Gravel 10304
4. Daryn Pittman 9934
5. Shane Stewart 9906
6. Jason Johnson 9708
7. Sheldon Haudenschild 9378
8. Kraig Kinser 9238
9. Logan Schuchart 9088
10. Jason Sides 9022

-end-
Postponed World of Outlaws Sprint Car Empire State Challenge Set for October 15

WEEDSPORT, NY (October 5, 2017) – Despite a rain out in mid-May the cars and stars of the Craftsman World of Outlaws Sprint Car Series are eager to return to New York State on Sunday, October 15 as they take on Weedsport Speedway in the rescheduled Empire State Challenge.

With the Outlaws only making one trip a year to Weedsport, the drivers say the speedway's unique layout, family friendly atmosphere, and major event feel makes it a prime stop for the tour.

"The track has a very unique shape," said defending race winner and eight-time World of Outlaws champion, Donny Schatz. "You carry all of that speed into turn one, then it opens up into that sweeping back stretch. It's a unique place for sure. You have to be aggressive but be able to be patient also."

With 14 wins on the season, David Gravel is also excited to return to The Port.

"There is a big inside wall there," said Gravel, who wheels the CJB Motorsports No. 5. "A lot of times the fastest way around is on the bottom. So you need to get as low as you can without hitting that wall. It's a unique place that throws challenges at people, and I am always up for challenges."

Shane Stewart, driver of the Larson/Marks No. 2, finished fourth at Weedsport last season and says the corner layout is what separates the track from the rest.

"The corners are just so different from each other," said Stewart. "Turns one and two are really sharp and three and four are kind of a more sweeping corner, the place is shaped like a D. We do not race in New York as much as we used to, so it is always really good to get back up in that part of the country. This part of the swing is tough with all of the local competition in Pennsylvania and the northeast."

While the race track provides unique challenges to the drivers and unique viewing opportunities for the fans, the drivers are not lost on all that Weedsport Speedway track owner Al Heinke and his team have done to advance the overall experience for spectators and teams alike.

"It's great to see all that has been done at Weedsport in recent years," said Schatz. "The place is so clean and fan friendly and those LED lights are just awesome."

The Beyea Custom Headers Sportsman Shootout Series finale will also be a part of the evening.

Tickets for the return of the Craftsman World of Outlaws Sprint Car Series to Weedsport Speedway are available online at www.weedsportspeedway.com through the ShowClix application on the right hand side of the homepage.

Reserved seating is on sale for $35 with general admission seating available for $30. Student tickets aged 11-17 are $15 with kids 10 and under free.

Grandstand gates will open at 4 p.m. on October 15 with opening ceremonies at 7 p.m.

Ticket stubs and blue wristbands from May's postponed program will be honored for the Sunday, October 15 reschedule of the Empire State Challenge.

For more information on Weedsport Speedway be sure to visit online at www.weedsportspeedway.com. Fans can also FOLLOW on Twitter @WeedsportSpdwy and LIKE on Facebook at www.facebook.com/weedsportspeedway.

-end-


David Gravel, CJB Pocket $50,000 at Champion Racing Oil Williams Grove National Open

Donny Schatz, James McFadden both lead laps but settle for 2nd and 3rd

MECHANICSBURG, PA - September 30, 2017 - David Gravel passed Donny Schatz for the lead on lap six and went on to capture his 16th win of the season aboard the CJB Motorsports entry. It was Gravel's second career Champion Racing Oil National Open win at Williams Grove worth $50,000. Schatz and James McFadden completed the podium.

Feature: (40 Laps) 1. 5-David Gravel [1][$50,000]; 2. 15-Donny Schatz [2][$12,000]; 3. 3-James McFadden [6][$7,500]; 4. 1S-Logan Schuchart [20][$4,000]; 5. 9-Daryn Pittman [3][$3,500]; 6. 27-Greg Hodnett [9][$3,000]; 7. 2M-Kerry Madsen [5][$2,700]; 8. 93-Sheldon Haudenschild [11][$2,500]; 9. 58-Brock Zearfoss [16][$2,200]; 10. 7S-Jason Sides [8][$2,100]; 11. 24-Lucas Wolfe [10][$2,000]; 12. 19-Brent Marks [14][$1,650]; 13. 18-Ian Madsen [12][$1,550]; 14. 51-Freddie Rahmer [25][$300]; 15. 39-Cory Haas [22][$1,100]; 16. 1-Dale Blaney [24][$1,050]; 17. 41-Jason Johnson [15][$1,000]; 18. 48-Danny Dietrich [18][$950]; 19. 49-Brad Sweet [21][$950]; 20. 17-Jac Haudenschild [19][$950]; 21. 21-Brian Brown [13][$900]; 22. 2-Shane Stewart [7][$900]; 23. 69K-Lance Dewease [4][$900]; 24. 11K-Kraig Kinser [17][$900]; 25. 11-T.J. Stutts [26][$]; 26. 21P-Brian Montieth [23][$900]; Lap Leaders: Donny Schatz 1-5; David Gravel 6-18, 20-40; James McFadden 19; KSE Hard Charger Award: 1S-Logan Schuchart [+16]

Unofficial Standings
1. Donny Schatz 10388
2. Brad Sweet 10240
3. David Gravel 10154
4. Daryn Pittman 9814
5. Shane Stewart 9778
6. Jason Johnson 9562
7. Sheldon Haudenschild 9248
8. Kraig Kinser 9102
9. Logan Schuchart 8976
10. Jason Sides 8896

-end-

James McFadden Scores First Career World of Outlaws Win on Night 2 of Williams Grove National Open

Donny Schatz, David Gravel, James McFadden and Daryn Pittman locked in to Saturday's Craftsman Club Dash

MECHANICSBURG, PA - September 29, 2017 - Australian James McFadden scored his first career World of Outlaws Craftsman Sprint Car Series win in exciting fashion holding off Greg Hodnett and Donny Schatz to win the second night of the Williams Grove Champion Racing Oil National Open. Heading into tomorrow's finale, Donny Schatz leads the National Open points and will be locked in to tomorrow's Craftsman Club Dash. David Gravel, McFadden and Daryn Pittman are also locked in to tomorrow's Dash.

Feature: (25 Laps) 1. 3-James McFadden [1][$10,000]; 2. 27-Greg Hodnett [2][$5,000]; 3. 15-Donny Schatz [4][$3,000]; 4. 49-Brad Sweet [6][$2,700]; 5. 2-Shane Stewart [5][$2,500]; 6. 41-Jason Johnson [3][$2,200]; 7. 18-Ian Madsen [8][$2,000]; 8. 24-Lucas Wolfe [7][$1,800]; 9. 2M-Kerry Madsen [10][$1,600]; 10. 5-David Gravel [12][$1,450]; 11. 69K-Lance Dewease [21][$1,300]; 12. 19-Brent Marks [11][$1,200]; 13. 9-Daryn Pittman [20][$1,100]; 14. 7S-Jason Sides [9][$1,000]; 15. 11-T.J. Stutts [15][$950]; 16. 58-Brock Zearfoss [16][$900]; 17. 93-Sheldon Haudenschild [23][$850]; 18. 94-Ryan Smith [17][$750]; 19. 21-Brian Brown [18][$725]; 20. 87-Alan Krimes [24][$700]; 21. 11K-Kraig Kinser [19][$700]; 22. 44-Trey Starks [14][$700]; 23. 21P-Brian Montieth [27][$]; 24. 48-Danny Dietrich [13][$700]; 25. 1-Dale Blaney [22][$700]; 26. 17-Jac Haudenschild [25][$]; 27. 51-Freddie Rahmer [26][$];

Lap Leaders: James McFadden 1-25.

Unofficial Standings
1. Donny Schatz 10242
2. Brad Sweet 10128
3. David Gravel 10004
4. Daryn Pittman 9674
5. Shane Stewart 9672
6. Jason Johnson 9446
7. Sheldon Haudenschild 9114
8. Kraig Kinser 9000
9. Logan Schuchart 8834
10. Jason Sides 8766

-end-
David Gravel Scores Opening Night Victory at Williams Grove National Open

Greg Hodnett pockets $20,000 in Summer Nationals Makeup Feature

MECHANICSBURG, PA - September 29, 2017 - David Gravel assumed the lead after race leaders Greg Hodnett and Shane Stewart got together on lap nine. Gravel led the rest of the way, but not without a fight from Daryn Pittman and Lance Dewease, who finished second and third. Pittman and Dewease finished within a second of Gravel at the finish.

Race Report: Summer Nationals Makeup:

Greg Hodnett's eventful evening was capped off in style as he led all 30 laps to score the $20,000 Summer Nationals Makeup Feature from July. Lucas Wolfe came from eighth to finish second with Donny Schatz completing the podium.

ABBREVIATED RESULTS FROM NIGHT 1 OF THE CHAMPION RACING OIL NATIONAL OPEN - September 28, 2017:

Feature (25 laps): 1. David Gravel; 2. Daryn Pittman; 3. Lance Dewease; 4. Donny Schatz; 5. Cory Haas; 6. Sheldon Haudenschild; 7. Kerry Madsen; 8. Freddie Rahmer; 9. Brian Brown; 10. Brad Sweet; 11. Brent Marks; 12. Jason Sides; 13. Danny Dietrich; 14. Brian Montieth; 15. James McFadden; 16. Parker Price-Miller; 17. Dale Blaney; 18. Kraig Kinser; 19. Ian Madsen; 20. Lucas Wolfe; 21. Jason Johnson; 22. Shane Stewart; 23. Anthony Macri; 24. Matt Campbell; 25. Brock Zearfoss; 26. Jac Haudenschild; 27. Greg Hodnett.

Lap Leaders: Greg Hodnett 1-9, Shane Stewart 10, David Gravel 11-25.

Williams Grove Speedway - September 28, 2017 (Makeup Feature from 7/22/17)
Feature: (30 laps) 1. Greg Hodnett; 2. Lucas Wolfe; 3. Donny Schatz; 4. Daryn Pittman; 5. David Gravel; 6. Brad Sweet; 7. Shane Stewart; 8. Lance Dewease; 9. Logan Schuchart; 10. Sheldon Haudenschild; 11. Freddie Rahmer; 12. Jason Sides; 13. Jason Johnson; 14. Trey Starks; 15. James McFadden; 16. Dale Blaney; 17. Matt Campbell; 18. Brent Marks; 19. Parker Price-Miller; 20. Kraig Kinser; 21. Danny Dietrich; 22. Brian Montieth; 23. Anthony Macri; 24. Steve Buckwalter; 25. Aaron Ott.

Lap Leaders: Greg Hodnett 1-30.

UnofficialStandings:
1. Donny Schatz 10098
2. Brad Sweet 9986
3. David Gravel 9874
4. Daryn Pittman 9550
5. Shane Stewart 9532
6. Jason Johnson 9308
7. Sheldon Haudenschild 8998
8. Kraig Kinser 8892
9. Logan Schuchart 8744
10. Jason Sides 8644

-end-
Donny Schatz Scores 18th Win of the Season at Calistoga

CALISTOGA, CA - September 16, 2017 - Donny Schatz passed Brad Sweet on lap 25 to pick up his 18th win of the season Saturday night at Calistoga Speedway. Sweet, who swept Friday's event, held off a charge from Shane Stewart, who succumbed to a flat tire, before giving way to Schatz in heavy lapped traffic. Daryn Pittman surged late for second while Sweet settled for third.

The World of Outlaws Craftsman Sprint Car Series now heads East and will compete Friday, September 22 at the Eldora Speedway in Rossburg, Ohio before heading to the Lernerville Speedway Saturday the 23rd for the running of the Commonwealth Clash.

Feature (30 Laps): 1. Donny Schatz; 2. Daryn Pittman; 3. Brad Sweet; 4. Jason Johnson; 5. David Gravel; 6. Rico Abreu; 7. Jac Haudenschild; 8. Jamie Veal; 9. Greg Wilson; 10. Shane Stewart; 11. Jason Sides; 12. Brent Marks; 13. Dominic Scelzi; 14. Austen Wheatley; 15. Sheldon Haudenschild; 16. Kraig Kinser; 17. Kyle Hirst; 18. DJ Netto; 19. Shane Golobic; 20. Bud Kaeding; 21. Cory Eliason; 22. Jacob Allen; 23. Willie Croft; 24. Paul McMahan; 25. Logan Schuchart.
Lap Leaders: Brad Sweet 1-23, Donny Schatz 24-30.
Unofficial Standings
1. Donny Schatz 9522
2. Brad Sweet 9434
2. David Gravel 9294
4. Shane Stewart 9022
5. Daryn Pittman 9000
6. Jason Johnson 8798
7. Sheldon Haudenschild 8498
8. Kraig Kinser 8426
9. Logan Schuchart 8278
10. Jason Sides 8176

-end-
Shane Stewart Claims Desired Gold Cup Race of Champions Victory

CHICO, CA - September 9, 2017 - Shane Stewart passed local driver Justin Sanders to win his eighth World of Outlaws Craftsman Sprint Car Series Feature of the season, but his first Gold Cup Race of Champions. Sanders finished a career-best second with Friday's winner Kyle Hirst completing the podium.

Feature (40 Laps): 1. Shane Stewart; 2. Justin Sanders; 3. Kyle Hirst; 4. Jamie Veal; 5. Willie Croft; 6. Brad Sweet; 7. Carson Macedo; 8. Mitchell Faccinto; 9. Jac Haudenschild; 10. Logan Schuchart; 11. Donny Schatz; 12. Jason Johnson; 13. Bud Kaeding; 14. Dominic Scelzi; 15. Daryn Pittman; 16. DJ Netto; 17. Kalib Henry; 18. David Gravel; 19. Jake Wheeler; 20. Sheldon Haudenschild; 21. Rico Abreu; 22. Cory Eliason; 23. Jonathan Allard; 24. Sean Becker; 25. Brent Marks; 26. Jacob Allen.

Lap Leaders: Justin Sanders 1-11, Shane Stewart 12-40;

Unofficial Standings
1. Donny Schatz 9230
2. Brad Sweet 9140
3. David Gravel 9040
4. Shane Stewart 8748
5. Daryn Pittman 8714
6. Jason Johnson 8526
7. Sheldon Haudenschild 8250
8. Kraig Kinser 8170
9. Logan Schuchart 8030
10. Jason Sides 7926

-end-
2017 Ironman 55 Rescheduled to Friday, August 3,2018

Two $20,000-to-win events on the same weekend at the same track

CONCORD, NC - August 25, 2017 - The World of Outlaws Craftsman® Sprint Car Series and Federated Auto Parts Raceway at I-55 announced today, with the postponed 2017 Ironman 55, one of the biggest "back to back" events on the 2018 schedule. For the first time ever, two $20,000 to win - 55 lap - features at the same track making the Ironman 55 weekend even grander.

The 2017 Ironman 55 at Federated Auto Parts Raceway at I-55, was postponed on Saturday, August 5 when persistent rain hit the Pevely, MO-area and prevented the completion of one of the most exciting events on the calendar. The crowded race schedule and travel demands of the World of Outlaws Craftsman Sprint Car Series made a 2017 rain date impossible.

The Outlaws will return to the Federated Auto Parts Raceway at I-55 for a two-day weekend, Friday and Saturday, August 3 and 4, 2018. For the first time back-to-back $20,000 to win - $1,000 to start World of Outlaws events at the same venue!

The rescheduled 2017 Ironman 55 will run in its entirety on Friday, August 3, 2018. The 2018 Ironman 55 will run the following day on Saturday, August 4.

The Modified feature that was previously set will be made up on Friday, August 3, 2018.

Tickets from the 2017 Ironman 55 will be transferred to the Friday portion (August 3,2018) of the 2018 Ironman weekend. Ticket holders will need to hold on to their tickets. If reserved seats were purchased, the ticket buyer will have for the seat for the Friday night portion of the event.

General Admission ticket or a Pit Wristband holders will need to exchange those tickets at the respective booths.

New ticket buyers can purchase tickets by visiting WoOSprint.com/Tickets on the on-sale date. Stay up-to-date on future World of Outlaws Craftsman Sprint Car Series events by visiting WoOSprint.com

-end-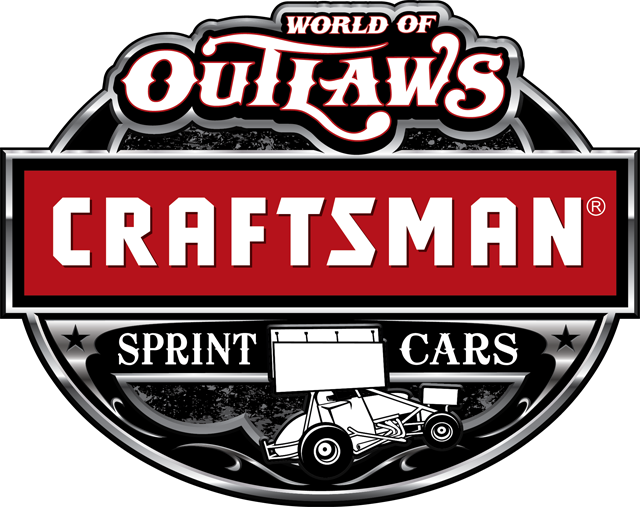 2017 Points

FINAL

1. Donny Schatz 11410
2. Brad Sweet 11200
3. David Gravel 11082
4. Daryn Pittman 10718
5. Shane Stewart 10702
6. Jason Johnson 10496
7. S. Haudenschild 10118
8. Kraig Kinser 9946
9. Logan Schuchart 9854
10. Brent Marks 9744